A tale of 2 nanis
AS THE nation celebrates Indian Arrival Day, the Express today recognises the lives of two Indian women, both over 100 years old, living in neighbouring communities, with full lives of their own. Here are their stories:
AT 105, the spirited Dharmie Deo still has an appetite for life.
Spending her days with her family, this matriarch is not only the pillar in her family but of the community.
Dharmie celebrated her 105th birthday last month surrounded by her loved ones at her Digity Trace, Penal home.
She came from a time when trains still ran through the village and respect for elders was of utmost importance, something which she said is lacking with many youngsters today.
Reporter Sandhya Santoo met Dharmie and her loving family by accident.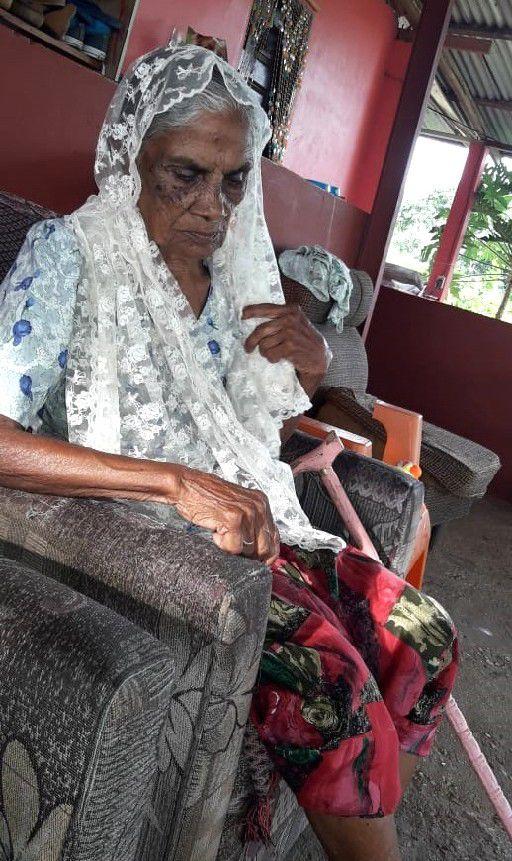 Santoo said: "I was on my way to meet another centenarian (Ramrajie Ramsawak) in the neighbouring community of Mohess Road, when I stopped, seeking directions. The villagers knew of an elderly woman living close-by and my journey led me to the Deo family home. One resident who only gave his name as Krishna, said he was in awe that Dharmie has no medical complications, and said he was proud to live in a community where a remarkable woman like Dharmie stills lives.
After a few missed turns, I finally arrived at the house which was located at the top of a hill. As I pulled into the driveway, there stood a frail woman supported by a pink walking stick standing next to a barrel of water. She was not the woman I was searching for but I could not leave after seeing her."
The accidental meeting turned out to be a pleasure. The family did not turn Santoo away. Instead, they warmly welcomed her and shared the story of how her family arrived in Trinidad.
Child bride
Her father, Joot, came from India, in district known as Aampur, in Uttar Pradesh.
Dharmie said her father, young and newly married at the time, was tending to his cattle in the fields in Uttar Pradesh one day when he was approached by some men.
After a conversation with the men, Joot, a simple man, was tricked into going on a ship waiting for passengers at the harbour.
She said he did not know what was happening until the ship left the port in India, leaving behind his wife and relatives.
When he arrived in Trinidad he was sent to Union Hall, then to Moruga and finally after all his hard work in the sugarcane fields, settled down in Gandhi Village in Debe.
His beloved wife was eventually reunited with him. He was one of the very few lucky ones to have been reconnected with family from India after leaving the country. It was at Gandhi Village where Joot had four daughters.
Dharmie is now the sole survivor of her siblings.
She did not escape the common practice among many Indian immigrants — she became a child bride. At the age of eight, just three months shy of her ninth birthday, Dharmie was married to Deo Bhahadoor, and moved to her in-laws home in Digity Village in Penal, and has lived there ever since.
Wonder Woman
Her home is on a hilltop. Long ago, Indian families chose hilly areas to construct their homes as most of the land, which has since been developed, was swampland.
She became a farmer, like the rest of her family, planting fruits trees and vegetables.
She eventually started selling her produce at the Marabella and Penal markets.
She spoke about her days of "catching the trains from Debe to Golconda", paying only six cents for a one-way trip to attend temple service. She is a devout Hindu and continues to practice her religion.
Dharmie is the mother of seven.
However, four of her children have died. Her husband also died over 60 years ago. She has 25 grand and over 30 great grandchildren.
Today, this wonder woman still has the strength to plant crops, clean house and cook, with the help of her family.
She now lives with her youngest son, his wife and their children.
Dharmie does not suffer from any serious ailments. Her hearing is not what it used to be, and her memory is a little fuzzy at times, but it does not stop her from joining in on a conversation and sharing her words of wisdom to others. She has sharp senses and has observed the youths of today who often show little respect to elders and do not heed their wise words.
She laughed when she said that if such disrespect was shown during her youth, the punishment would be licks.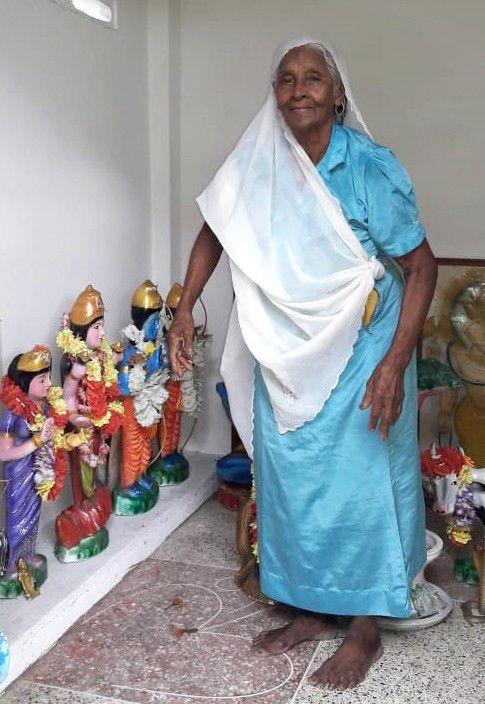 Dharmie can often be found wearing her orhni (head scarf).
However, when the Express visited earlier this week, the extreme heat forced her to remove the cover. Her daughter-in-law Nazareen Mohammed-Deo said her mother-in-law would wear the orhni when she leaves the house.
Dharmie was honoured by the High Commissioner of India to Trinidad and Tobago last year and given a hamper by the former High Commissioner Bishwadip Dey.
Share on Facebook